What a fantastic Saturday morning, I could feel the ambiance of the sun rays from above. It's another outreach, but this time around in a different community. Our consistent partner, known as "Odogwu" in some quarters, decides to reach out to his people one more time. The past three Saturdays were fully packed with mind enriching training for volunteers; hence, everyone was looking forward to our next trip afterward. After a three weeks break, a few volunteers set out to access the vulnerable in our next place of interest on Thursday, August 13, 2020.
Scouting through a rural community to identify the vulnerable is one of the most sensitive, soul-touching, and emotional aspects of volunteering. This exercise enables us to meet the people in their homes, and see the actual condition of things for ourselves, like the thatch houses, leaking roofs, shrunken hungry faces due to hunger.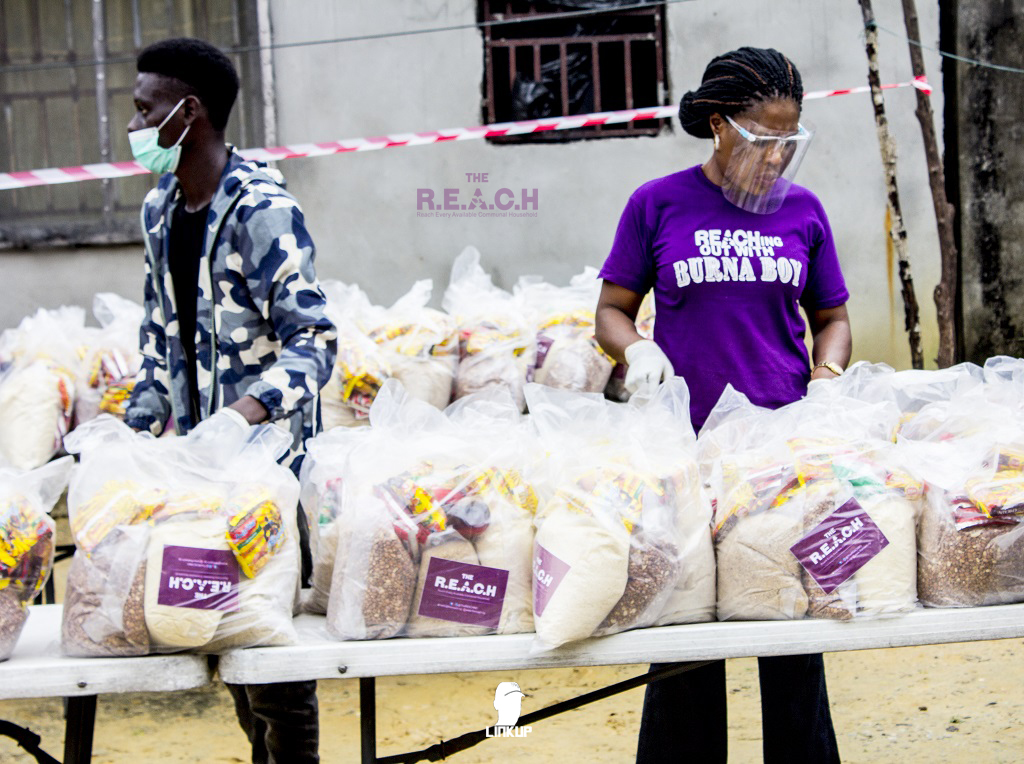 Coincidentally, this Saturday's outreach aligned with the release of the 5th studio album of Odogwu himself. Volunteers were all in high spirits as usual for another distribution; everyone was so excited as we converged for the regular briefing before we hit the road. At last, we were good to go, as we embarked on our road trip in a four-car convoy headed to Ido community in Asari Toru LGA, Rivers State. Driving through the narrow roads of Kalabari kingdom, we saw a place where volunteers tagged "the zinc estate" due to the old structures with rusty roofing sheets we saw.
Finally, we arrived at our host community. As we drove past the indigenes to the distribution ground, there was already a large number of people waiting for us. They were mostly tired women, as could be seen from their countenance.
We are very grateful to Burna Boy, who, at the release of his newest album "Twice as Tall," deemed it fit to put smiles on more faces by giving them food to quench their hunger. The beneficiaries were mostly pregnant women and nursing mothers. I could see so many mid-aged women with their protruded bellies, and I wished them safe delivery. They couldn't stop smiling and praying for us while dancing to Burna Boy's beats. A few indigenes joyfully posed for the camera and asked for pictures in front of the banner carrying his face.
I remember a certain nursing mother who wanted a picture with a volunteer in front of Burna boy's photo. Her salute to Burna's poster behind was a sight to behold. She further requested to be held on her shoulder by a volunteer who stood by for a photo shoot. The volunteer obliged and went as far as keeping her close like a friend. The happy mother couldn't hide her joy as she whispered, "select the fine ones send am to Burna Boy."
In summary, we had a fantastic outreach with the peaceful and loving people of Ido. The community leaders ensured that we had no issues at all. It was one of the fastest outreaches ever. In the end, 320 families benefited from our palliative with over 1000 individuals impacted.
The new album "Twice as Tall" goes a long way to reflect Burna Boy's genuine love for his people. And I quote "If you feel like you can't level up, omo make you no stop at all, because right when you start to feel like you can't level up, that's when you have shut the devil up" this is culled from the track "Twice as Tall" by Burna Boy.
We are indeed grateful to Burna Boy, and we love his newest album, "Twice as Tall." We won't stop streaming his songs. The REACH is with Burna Boy because he keeps coming back Twice as Tall. Keep winning Burna Boy; you are indeed the best!
May God bless all the sponsors. God bless the volunteers, and God bless The R.E.A.C.H.