You make each day special just by being yourself around people, you illuminate the darkest moments in the lives of people through your acts of generosity. You are kind and your care for humanity is never in doubt.
If asked if I have met anyone who has lived all his life being charitable and kind to others I am going to mention you a million times because you are a servant of the poor. The volunteers would say the same because to all of us, you are that humble, happy, and friendly teacher, yes, teacher because you are always willing and patient to guide people through the right paths and your life is a lesson to us because we learn from your actions. You are unique.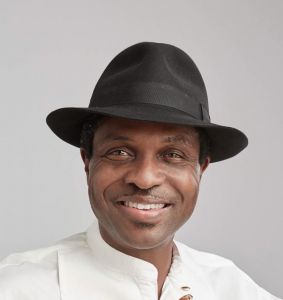 You are the most generous, fun, and loving person every young person should cling to, your interest in the growth and the development of youths make me wonder how you make out time for people even with your busy schedules. You are passionate about a lot of things, sometimes I question why you have to do so much but then all of these sums up who you really are. No one or definition better describes the word intentionality but you. You are intentional. You are the best definition of what it means to be intentional.
The journey of feeding families and caring for them in this trying moment as we are faced with the deadly pandemic, couldn't have been possible without you pushing this goal of sustaining the poor in their lack. Many smiled again, many lived, many became hopeful because you gave them reasons to be.
Memories! Memories of women and children who danced to the love they received, laughter on the faces of those who couldn't comprehend the fact that someone remembered them, the tears that flowed from the eyes of those who never expected the love extended, the songs of praise and thanksgiving to God from the poor widow. The reality you brought because you were busy thinking of the poor.
Thanks for being a gentle and kind mentor to us all in the REACH foundation, You are an inspiration to everyone, thanks for making available this platform so people can extend love by volunteering, sharing, and contributing. You remain a shining example for all of us.
This epistle is too short for a great icon.
It's your birthday, Pastor Tonye Patrick Cole, and from all of us at the REACH foundation we wish you a memorable and exciting year, we say thank you for all you do for humanity, May God continues to shower his blessings of love, grace, peace, health, protection, success, and everything good that you would wish for yourself. Remain a happy, loving, and kind individual. Cheers to a new age.
From all of us at the REACH foundation.